Who Else Wants To Gain Lean Muscle Tone and Drop Body Fat In Just 6-Weeks
Get Cut Fitness
67 S Glenn Dr
Camarillo, CA 93010
(805) 407-8942
Imagine a fitness and weight loss program that not only works fast but gives you the permanent results you deserve!
Drop 3-4 dress/pant sizes
Lose 5-9 inches off your waist
Drop 12-25 pounds of fat
Personalized and satisfying meal plan
Unlimited small group personal training workouts for 6-weeks
Expert guidance from top certified trainers
Hi there and welcome. I'm sure you know that there is no shortage of fitness options and fads out there promising the moon that simply do not deliver! You may have often taken a chance on a new exciting approach to fitness and weight loss, only to be disappointed with the results over and over again! The reason that you and the vast majority of other well meaning, hard working people fail to reach your fitness goals of losing fat and toning up is:
The miracle cures sold on the back of celebrity endorsements and hyped-up promises will never create results that last for more than just a few weeks.
Fad diets and workouts are not a lifestyle-based approach that will create lasting results.  Even if they work for a short amount of time, you soon gain all the weight back.
Check Out These Great Body Transformation Results!
It really bothers me when I see new clients come to me utterly defeated and down on themselves thinking it's their fault.
You know the feeling, constantly telling yourself that you're lazy and undisciplined or telling yourself things like: 'some people just cant be fit', 'its my genetics' or 'i just have a slow metabolism'.
All because you've been duped by the constant bombardment of marketing hype and contradictory information day in and day out.
Well, at Get Cut Fitness we say screw that noise! It's not YOUR fault!
We are here to guide and support you in your goals to live a healthier happier sexier-yes I said it-lifestyle. Now and for the rest of your life.
NO fads, no gimmicks, just step-by-step expert guidance through your lifestyle transformation so that looking and feeling your best becomes automatic!
Here's What You Get During Your 6-Week Body Transformation
Step-by-step Guidance from veteran certified personal trainers who guide you through permanent lifestyle changes so that looking and feeling your best automatically result from your day-to-day habits so you no longer have to think about it.
Personalized meal plan just for you using REAL food, not a generic fad diet or expensive shakes
Unlimited fun, varied fat-burning, muscle-toning, small-group personal training workouts for 6 weeks!
A supportive environment were you can be surrounded with like-minded people with similar goals to hold you accountable and go through the journey with you!
So how much is this 6-Week Challenge going to cost me?
I appreciate your direct question.  The cost of the program is about $6 per day. When you fill out the "Save my spot" box I'll be giving you a call to talk to you a bit more about your fitness goals and make sure the program is right for you. If it's a good fit, you will simply pay a 50 dollar deposit to reserve your place and the balance will be due the day your program starts. Before you make any pre-judgements about the cost make sure you consider something: How much do you spend on unhealthy habits over the course of the month?
A daily coffee run will cost you around $100 per month
Eating our twice a week will cost you around $80 per month
A glass of wine per night will cost you around $100 per month
These are conservative numbers. Most of us spend way more. Why not take just part of the money you spend on things that are making you feel unhealthy and unhappy and spend it on a fitness challenge that will transform you into the healthy happy person you want to be! If you are even just partially interested make sure to fill out the "Save my Spot!" form. This is a no obligation offer. We will not pressure you into the program. We will simply contact you to give you more details to find out if it is the right program for you. We'll look forward to being in touch with you!
What Have You Got To Lose?
If you sign up today you're under no obligation whatsoever, in fact you don't even need to enter any payment information.
And don't worry, we are a small private studio with trainers who care, not a big corporation or sales people so you will not be fending off aggressive sales calls 24-7 when you enter your info to join.
Just sign up below, learn more about the 6-week body transformation challenge, if its for you great! We'll help you reach your fitness goals in a big way!
If not no big deal, I will not hassle you in any way.
And here's the really cool part: This is a challenge, the three people with the highest points at the end win awesome prizes! The last Challenge winners took home almost 1000 dollars!
How the point system works: The cool thing about our point system is it rewards consistency of your workouts and participation in the program instead of just the most amount of weight lost. We find this system works best because it is the most effective way to help you establish healthy habits over the 6-weeks so you can keep getting great results even after the challenge is over.
The next 6-week starts soon so don't delay.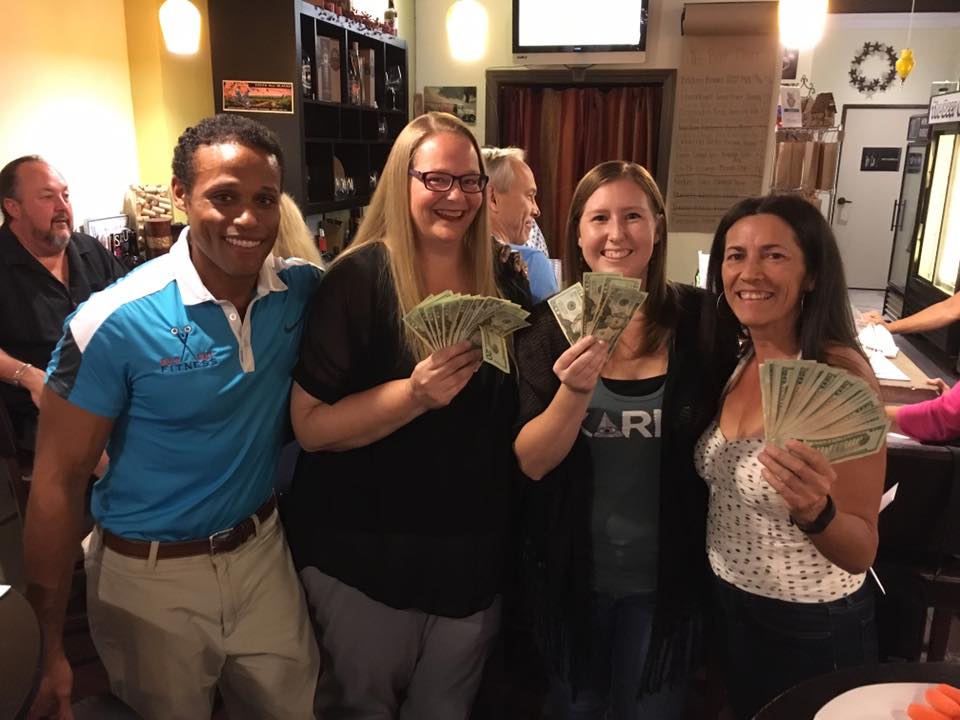 Wait, This Isn't For Everyone,
Here's Who This 6-Week Body Transformation Challenge Is For...
You must be willing to workout a minimum of 3 days a week for 60 minutes
You must follow a customized meal plan
You must take regular measurements to track how much fat your losing
You must have a positive hard working attitude in class